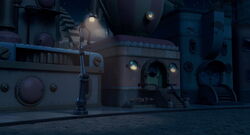 Lamppost is a minor character in Robots.
It stands on the corner in front of Aunt Fanny 's house and it has a screw for the light bulb. It is shown when Rodney, Fender, Wonderbot, Crank , Piper, and Aunt Fanny do some armpit farting all night but eventually passes out and dies.
An outline of it is shown on the streets, the next day.
Ad blocker interference detected!
Wikia is a free-to-use site that makes money from advertising. We have a modified experience for viewers using ad blockers

Wikia is not accessible if you've made further modifications. Remove the custom ad blocker rule(s) and the page will load as expected.